Catherine de' Medici was born in April, 1519 in Florence, Italy, the only child of Lorenzo de' Medici, Duke of Urbino and his wife, Madeleine de la Tour d'Auvergne, the countess of Boulogne.
She was responsible for introducing significant Italian culinary influences and innovations to France, including forks and the complex sauces that are now associated with French cuisine. Catherine was also responsible for bringing the fragrance industry to the country from her native Florence, the story of which is in this week's Italy and…Fragrances feature. What is also truly remarkable is that although she was a Florentine, she became the wife of one French monarch, mother to three Kings of that country and the mother-in-law of another.
Catherine, although born into the house of Medici, did not begin life as expected. Her parents, a young couple, had been married the year before her birth at Amboise as part of the alliance between King Francis I of France and Lorenzo's uncle, Pope Leo X, against the Holy Roman Emperor Maximilian I.
Within a month of Catherine's birth, both her parents were dead. Madeleine died on April 28 of puerperal fever and Lorenzo died on May 4, also of illness. King Francis I wanted Catherine to be raised at the French court, but Pope Leo refused. Catherine was raised by her aunt, Clarice de' Medici. The death of Pope Leo in 1521 briefly interrupted the Medici's power until Cardinal Giulio de' Medici was elected Pope Clement VII in 1523. Catherine then lived in the Palazzo Medici Riccardi in Florence.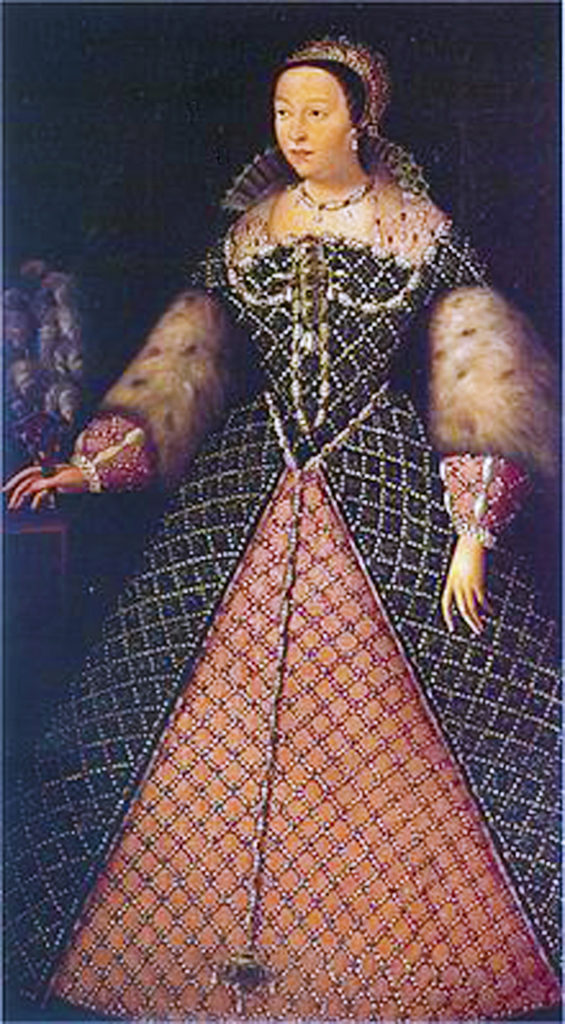 Catherine de'medici's marriage
In 1533, at the age of fourteen, Catherine was wed to Henry, the second son of King Francis of France. Catherine's marriage was arranged by Pope Clement VII. Catherine saw little of her husband in their first year of marriage, but the ladies of the court, impressed with her intelligence, treated her well. However, the death of Pope Clement VII in September 1534 undermined Catherine's standing. The next Pope, Alessandro Farnese, broke the alliance with Francis and refused to continue paying her huge dowry.
In 1536, Henry's older brother Francis caught a chill after a game of tennis, contracted a fever and died shortly after, leaving Henry heir to the throne. Prince Henry showed no interest in Catherine as a wife; instead, he openly took mistresses. For the first ten years of their marriage, the royal couple failed to produce any children, but in January 1544, she at last gave birth to a son named after King Francis.
Catherine quickly conceived again and in April of the following year, she bore a daughter, Elisabeth. She went on to bear Henry eight more children, six of whom survived infancy, including the future Kings Francis II, Charles IX and Henry III. Catherine's ability to bear children failed to improve her marriage. When King Francis I died on March 31, 1547, she became Queen Consort of France, but Henry allowed Catherine almost no political influence.
In April 1559, Henry signed the Peace of Cateau-Cambrésis with the Holy Roman Empire and England, ending a long period of Italian Wars. The treaty was sealed by the betrothal of Catherine's 13 year-old daughter Elisabeth to Philip II of Spain. The wedding in June was celebrated with a week of celebration and jousting. The King insisted on participating in the jousts, but in his fourth match, was struck in the eye. He succumbed to his injuries ten days later. Francis II then became King at the age of fifteen. Catherine effectively ruled France for more than a year, but the King died of fever caused by an abscess in his ear in December, 1560. Catherine was appointed Governor of France, with sweeping powers. Next in line for the throne was her son, who became Charles IX. He was nine years old and cried during his coronation. She presided over his council, decided policy and controlled state business and patronage, but the country was on the brink of civil war between the Catholics and the French Protestants known as Huguenots. The country's internal strife persisted with bloodshed and battles from 1562 until an uneasy peace was obtained as the decade ended. 
Catherine then sought to increase her family's interests with grand dynastic marriages. In 1570, Charles IX married Elisabeth of Austria, daughter of Holy Roman Emperor Maximilian II. She was also eager for a match between one of her two youngest sons and Elizabeth I of England. Catherine also wanted to arrange a marriage between her daughter Margaret and Henry III of Navarre, with the objective of gaining Bourbon interests and reducing tensions with the Huguenots. Although Catherine had long been at odds with the family, especially with Jeanne, the Protestant mother of Henry, a wedding was arranged for August 1572. A month before the event, Jeanne came to Paris to buy clothing for the nuptials, only to suddenly take ill and die. The Huguenots long contended that Catherine was behind the deed, but that was only one of many accusations that they made against her. Three days after the wedding, an assassination attempt was made on one of the Huguenot's most influential members, Admiral Coligny. Fearing an uprising by the Protestants, with the words "Then kill them all! Kill them all!" Charles IX ordered a massive purge of their leaders who were still in Paris following the wedding. It became known as the St. Bartholomew's Day Massacre.
Two years later, Catherine faced a new crisis with the death of Charles IX at the age of 23. Henry was Catherine's favorite son, but unlike his brothers, he came to the throne as a grown man. A very pious man, early in his reign he preferred prayer to governing, which left Catherine to handle the affairs of state, but he began to exert more authority as time went on. Catherine's diminished control over the throne in no way reduced her knowledge of the domestic and foreign affairs. She had her own group of female spies who were known as the "Flying Squadron." She engaged very successfully in diplomatic duties throughout the last two decades of her life. 
In January 1589, Catherine died of pleurisy at the age 69. Eight months later, her son, King Henry III was murdered, leaving no direct heir to the throne. Her daughter Margaret's husband then became King Henry IV.
Catherine left a remarkable legacy. She effectively ruled France for more than a decade, contributed diplomatically for another twenty years and significantly influenced French culture over a span of more than 55 years. She is still referred to in the country as "The Italian Queen."