Valentine's Day is the second most popular day of the year for couples to get engaged. Christmas is first, but most people consider February 14th is the most romantic of days to propose. There are a myriad of details to plan for a wedding and that of course includes the honeymoon. We would like to suggest six island destinations that have the perfect mix of beauty, weather, beaches and cuisine for newlyweds to make their honeymoon memories last forever.
First on our list is Pantelleria, known as the 'Black Pearl of the Mediterranean.' Although it is one of the least known islands of Italy, it is a fabulous destination. Beautiful, quiet, secluded and romantic, Pantelleria is a paradise. Lying to the south of the western most tip of Sicily, it is the largest of all the Sicilian islands. Its coastline varies from dramatic to gentle and extends for 31 miles, with a climate that is dominated by the gentle breezes. It is the sea that attracts most visitors, with cliffs, inlets, caves and grottos lining the coast, making a trip around the island a fascinating excursion. A trip to its interior brings visitors to La Montagna Grande, a national park area and the island's highest peak, which offers wonderful views of Pantelleria and the sea. For couples, the most memorable times of their special trip might well be the moments spent together lounging by the water or enjoying the marvelous cuisine, where its crown jewel is the lavishly sweet Passito di Pantelleria wine, awarded UNESCO Heritage status in 2014.
vacationing at the aeolian islands
Rising out of the cobalt-blue seas off Sicily's northeastern coast are the Aeolian Islands. Comprising a seven-island archipelago, these bits of paradise offer an abundance of sun, sea and fun, three ingredients of a perfect honeymoon. A UNESCO World Heritage Site since 2000, the stunning waters provide a marine playground where everyone will find something to love. There are two very different islands to consider for a honeymoon. Lipari is the best of the seven, offering a busy little port, a lovely, pastel-colored seafront, picturesque streets, a historic castle-citadel and plenty of accommodations. It is also the most convenient base for island-hopping. Panarea is the smallest and most fashionable of the Aeolians, attracting international jet-setters and Milanese fashionistas. During the summer, luxury yachts fill the tiny harbor, while tourists walk the whitewashed streets of San Pietro, the port and principal town. It is an idyllic place for newlyweds to relax and explore in the midst of an endless blue sea.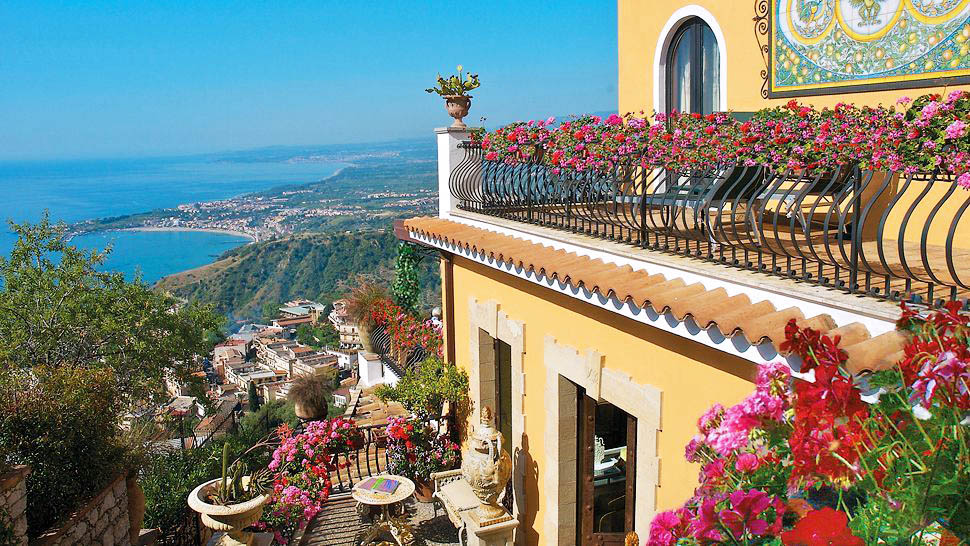 Sicily itself is a honeymooner's paradise, with impressive views, amazing crystalline water, food that the entire world reveres, fantastic local wines and world-class hotels. On its east coast, Taormina is like a fairytale hill town, complete with a medieval center, an ancient amphitheater which overlooks both the sea and Mt. Etna, plus a startling diversity of landscape. It is a setting that will inspire and astound. Spectacularly perched on the side of a mountain, the city is one of Sicily's most popular honeymoon destinations. The chic resorts are perfect for those who wish to experience a taste of Sicilian la dolce vita. It offers sophisticated shopping, extraordinary resorts and exceptional restaurants, but what really sets Taormina apart is the warmth and hospitality of its people. They will go to extraordinary lengths to make sure that couples have a wonderful time.
journeying to the isle of capri
The Isle of Capri is world-famous for its beauty and is one of the most romantic sites for a honeymoon in Italy. This tiny island off the west coast is surrounded by clear azure waters and is typified by quaint coastal towns, beautiful mountain settings and chic hotels. For couples who would like both a relaxing honeymoon as well as one that offers culture and a vibrant night life, Capri is the ideal choice. Its mysterious grottos, inimitable views and wild nature contrast sharply with the island's luxury villas and exclusive boutiques, creating a unique mix of both natural and historic wonders. It is a perfect retreat for lovers. Although enormously popular with tourists, there are a number of exclusive and luxurious hotels on the island which offer a more intimate settings than you might imagine on such a bustling island. There is the iconic Hotel Quisisana, which ranks as one of Italy's finest resorts, boasting a refined, yet relaxing ambiance, with its stylish décor of marble floors and crystal chandeliers. Also perfect for a honeymoon stay is J.K. Place, an Italian deco-inspired estate overlooking the Tyrrhenian Sea that creates its own sense of glamour on an island that is known world-wide for chic sophistication. Although couples may not want to leave the island, a boat ride to the famed Blue Grotto is a must. Couples will also want to spend at least a day visiting the various towns along the fabulous Amalfi Coast, where sightseeing and shopping will make the honeymoon even more memorable.
Also in the southern region of Campania and not far from Capri, Ischia is a lush, green island in the Gulf of Naples. It is famous for its stunning hillside villages, crystal clear waters and delightful cuisine. Ischia's pretty beaches, such as those at the Bay of San Montano, have natural hot springs. Also to include while you are there are the ancient Aragonese Castle and the picturesque village of Sant'Angelo with its colorful vistas. There are literally hundreds of stunning sites to see within the beautiful and romantic setting. Ischia has a slower pace than couples will find on the Isle of Capri, making it an ideal location to spend a quiet, romantic, honeymoon surrounded by beauty, history and tranquil blue waters. There are numerous four-star and five-star resorts to choose from and the restaurants, which unsurprisingly specialize in the freshest of seafood, are first rate.
Sardinia is one of Italy's best-kept secrets for those in the United States, but it has long been a vacation getaway for Europeans. With its sugar-sand beaches, bright blue water, outstanding cuisine and wines, the island's multifaceted allure appeals to every sort of traveler, but is especially suited for honeymooners. Along the northeastern coast, world-famous Costa Smeralda contains some of the finest resorts and beaches. Couples can immerse themselves in world-class dining and hotels fit for royalty; after all, Costa Smeralda was founded by Prince Ali Khan, who married movie star Rita Hayworth and built up the Smeralda Coast at Capo Coda Cavallo. The fine white sand and shallow waters of deep turquoise are positively enchanting, while the posh setting will create memories that will last a lifetime. Nearby Porto Cervo is a secluded cluster of private beaches, lagoons and pastel-painted resorts that embodies all of the charm and beauty of the Mediterranean. Its five-star hotels, such as Hotel Cala di Volpe, have breathtaking views of the sea, easy access to shopping in the downtown marina and sunbathing on pristine beaches. A more magical place is hard to imagine. Sardinia seems to have been created to make honeymoon dreams come true.