The boot
. If we were to think of the universe (for just a brief moment) as a fashion designer, this sublunar "boot," where the Roman empire once thrived, would be considered this designer's most majestic piece. Its signature, if you will. We look at the boot's label: 40% mountains, 1500 lakes, three active volcanoes, the world's finest fabrics, vineyards, 366 thousand tons of olives, Mediterranean climate. Its best-kept secret? One size fits all. If you're wondering how to explore Italy after moving from the U.S., you've come to the right place. Benvenuti in Italia, amici.
Felicità and where to find it
They say happiness can only be found within. It's true – within the 20 regions of Europe's most beautiful country.
From Aosta Valley, Lombardy, Tuscany, through Umbria and Calabria to Sicily and Sardinia, you have officially found your Eden and a vast one. Now, perfect timing for a little quandary. You've just entered a multiverse of awe-inspiring centerpieces, one at a time, and you'll get there.
When up north
We're all familiar with UNESCO World Heritage sites. 58 World Heritage sites, one country? Give it up for Italy!
The northern region alone is home to 19 heritage sites.
Unique rock formations and exquisite beauty of Dolomites mountain landscapes are just the tips of the wonder-berg. This region mothered beauty in many forms. The Alps? Lake Como? Art? Da Vinci's "Last supper" in Santa Maria della Grazie, Milan. Food? Osso Buco, Risotto
alla Milanese. Mamma mia!
Porcini mushroom picking (just a random fun outdoor activity, one of many). Now, back to food – Gnocchi, lasagna, Mascarpone, Grana Padano, Taleggio – oh, the cheese! Anyone interested in a glass of some prime wine?
Piedmont's vineyards are also a proud member of the UNESCO World Heritage sites
.
But, have we forgotten about Venice?
Our first true love.
The history behind the renowned Murano glass?
The baroque Turin, The Cinque Terre coastal haven, medieval Bergamo, Bologna (and, no, not for spaghetti Bolognese, despite the myth), Friuli-Venezia Giulia where Slovenia, Germany, and the Adriatic Sea meet for a glass of genuinely extraordinary wine, family-owned. Too many? Let's take 10, everyone.
The new life
Whether you have already moved to what we refer to as the"GDL" – "gelato dreamland" or you're still in the process of scooping (an accidental pun) all the necessary information before booking that one-way ticket, the truth is – relocating is never easy. What are we leaving behind, and what awaits us when we get there? Traveling with children can make the transition even more strenuous. Is relocating internationally demanding? You know it is, but it doesn't have to be stressful. You will thank yourself once you've settled in. And, your kids will probably love you even more. Ti amo papà, ti amo mamma! Doesn't that sound nice?
Si.
Viviamo l'arte / Where shall my senses feast
Nobody moves to Italy for business. Don't buy it – they are moving for the art. And so are you. Italy was the beehive of artistic innovation; it made an impact and changed the definition of art as we know it today. Sfumato, chiaroscuro, perspective, proportion; the pillars that propped the growth, the very evolution of painting. The Fatherland of architecture, sculpture, philosophy, literature, and science. Artistic robots of Tuscany, anyone? We live the art. And you'll be breathing in every inch of the world's finest masterpieces. How to explore Italy after moving from the U.S? To the museums, my friends!
The Vatican
(technically, not Italy, correct) : The Sistine Chapel ceiling, The Last Judgment, School of Athens, Quaratesi Polyptych, The Mass of Bolsena. Greek, Christian, Roman, Egyptian, all the cultures. The entire humanity and its history are waiting to get to know you.
Uffizi gallery, Florence
The reunion of The Greats: Botticelli, Leonardo Da Vinci, Michelangelo, Raffaello, Giotto, Caravaggio, Mantegna. And that's just the V.I.P. list. Art galore!
Vespa museum
Knowing your Vespa equals embracing the inner Italian. The "Ciao, amore" part might need some practice. Stay on it. Piaggio museum, Pontadera. See you there.
Ferrari Museum
 All you have to do is figure out a way to get to Maranello. Ferrari factory. Ferrari history. Need I say more?
Pompeii
 The antiquarium, an ode to the ancient city destroyed by the eruption of Mount Vesuvius. The museum lies on its ruins, portraying the preserved life of the great Roman Empire.
La Galleria dell'Accademia di Firenze
-"Hey, you wanna meet Dave?"
-"My Dave? Dave from Tampa?!"
Michelangelo's Dave. The David. He might not know who won the Super Bowl, but he's got some stories to tell.
Galleria Borghese
Bernini sculptures, Caravaggio, Titian, Raphael paintings. Villa Borghese gardens, now, that's a story. Rome. Go, visit, explore.
When down south
Naples sleeps on the doorstep of the quiet giant, Mount Vesuvius (which last erupted in 1944). Meeting the giant is a must. Don't miss Castel Nuovo and the San Gennaro Catacombs. Amalfi coast? Somebody, hand me a Ferrari. Bari, Palermo, Capri, Ischia, Parco Nazionale del Gargano. Beauty, allure, glamor, those Italian fragrances. Caciocavallo cheese? One of the oldest cheeses in the history of cheese. One simply cannot dislike Caciocavallo. Pizza Margherita? Yes, please. Mozzarella di Bufala? Can't make a Margherita without it. Limoncello? Pour it up! Arancino is the number one food symbol of the Southern region. You have to see it all, smell it all, taste it all.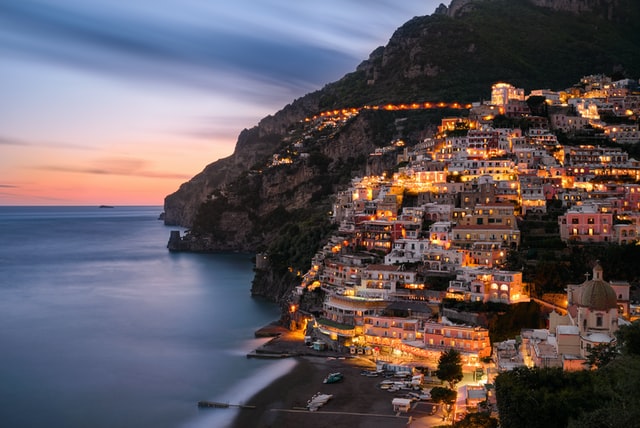 Grazie mille
The truth is, getting to know a country takes time. Introducing yourself to its history, art, food, and all the beauty it possesses is only the first step to becoming its citizen. Unleashing your inner Italian is a slow affair. Family, football, hand gestures, thunderous expression of emotions, fashion, espresso, afternoon nap (riposo) – getting familiar and embracing it takes time. Savor the day. The answer to how to explore Italy after moving from the U.S. is a simple one – make friends. Find good people. Once they let you in and you become a part of their micro-universe, Italy will be yours to keep and vice versa.